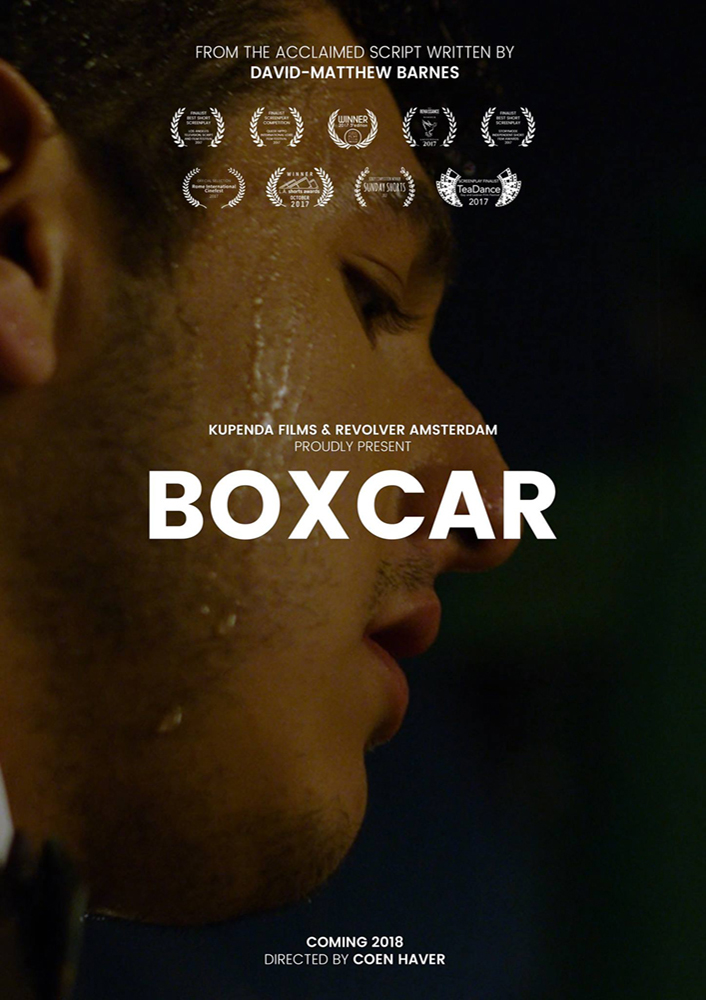 Título: Boxcar
Formato: Cortometraje
Director: Coen Haver
Guión: David-Matthew Barnes
Reparto: Cody Devine, Pedro Leos
Productora: Kupenda Films, Revolver Amsterdam
Director de fotografía: Richard Spierings
Género: Drama
Fecha de estreno: 2020
Trabajo de boom operator por Eduardo Carbonell.
Sinopsis:
Unable to attend a festival in their village together, Nick and Gregory decide to seek refuge in an abandoned boxcar. There they both seek an answer to that one question: 'what whould have happened if they had gone to the party together?' It is a question that will put their relationship to the test.
Palmarés:
- Winner, Best Short Screenplay, 2017 New Renaissance Film Festival (Amsterdam)
- Winner, Best Short Script, 2017 Play Film Festival (Paris)
- Winner, Script Competition, 2017 Sunday Shorts Film Festival (London)
- Winner, Best Short Script, L.A. Shorts Awards
- Winner, Best Short Screenplay, TeaDance Gay & Lesbian Film Festival (Greenville, NC)
- Finalist, Best Short Screenplay, 2017 Los Angeles Television, Script and Film Festival
- Finalist, Best Short Script, 2017 StoryMode Independent Short Film Awards (Colorado)
- Finalist, Screenplay Competition, 2017 Queer Hippo International LGBT Film Festival (Houston)
Making-of: